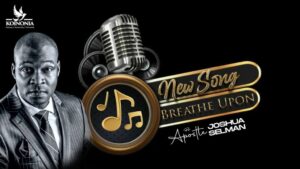 Apostle Joshua Selman, has once again showcased his musical talents by releasing a soul-stirring new song titled "Breathe Upon"
This latest release is set to captivate listeners and bring them into a deeper connection with the divine.
Song title: Breath Upon Mp3 By Apostle Joshua Selman
See Also:
Apostle Selman has emphasized the importance of the Holy Spirit in the lives of believers. In "Breathe Upon", he beautifully expresses his desire for the Holy Spirit's presence to permeate every aspect of our being. The song is a heartfelt plea for God to breathe His life upon us, giving us the strength to overcome challenges and experience divine transformation. You can listen below, And Don't forget to share. Shalom!
Dont Forget to Share this post..Thanks!