Good Work debut song by Kome Jones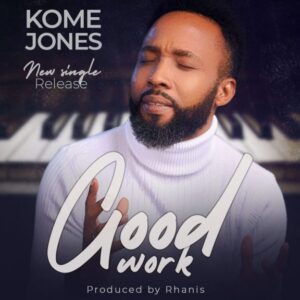 Renowned Gospel prolific minister Kome Jones drops new single "Good Work".
This song is a witness to our faith and walk with God, and is the essence of our living as sons and daughters of God.
"Good Work" is a song of reconviction and a response to Gods word, His will and His ways.
It is also a personal pledge and commitment, and am sure its going to not only bless you, but also move you in many ways.
Speaking about the song, Kome Jones shared; that God impressed this song on him a few years ago, but recently the Holy Spirit brought back that deep consciousness in his heart,
Reminding him of the reason I was formed in the very fashion I was created, and how everything about me is God's Worksmanship as written in Ephesians 2:10. So my abilities, my gifts, skills, experiences, pains, victories, lessons and everything is to culminate into bringing God pleasure by how we manifest in our world."
Get song on Audio Mack here: https://audiomack.com/komejones/song/good-work