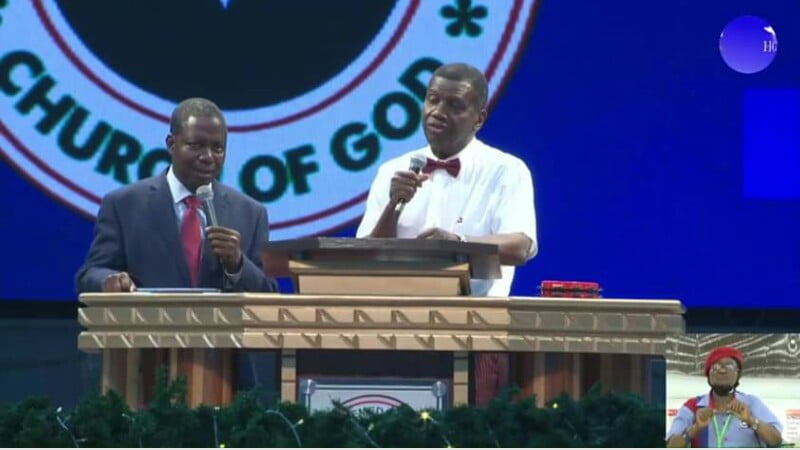 RCCG CONGRESS 2020 DECEMBER HOLY GHOST SERVICE SERMON/MESSAGE & PROPHECY BY PASTOR ADEBOYE
The RCCG Holy Ghost Congress 2020 didn't come to an end without a powerful message from the General Overseer, Our esteem Father, Pastor E.A ADEBOYE including some words of prophecy.
Its My time to fly, Holy ghost night message by pastor ADEBOYE is too loaded and powerful to be rushed.
Pastor E.A Adeboye Message For RCCG December 2020 Holy Ghost Service, Friday, 11th December 2020, Day 5 Evening Session
Ministering: Pastor Adeboye
Topic: It is Time to Fly
Types of Prayers
1) Thanksgiving
Psalm 34:1
2) Worship
Psalm 18:1-2, John 4:22-23
3) Supplication
1 Kings 8:46-50
It's a prayer of begging particularly by a sinner who is begging.
4) Intercession
Numbers 14:11-21
5) Prayer of Demand
Matthew 6:9-11
6) Prayer of Command
Isaiah 45:11
7) Decree
Job 22:21-28
If you satisfy certain conditions, you will decree a thing and it shall be established unto you.
The focus is on the prayers of demand, command and decree.
Practical Aspects of Flying
1. Physical
Mark 5:20-35
Prayer Point: Father, I am flying out of sickness tonight not tomorrow. I'm getting healed tonight.
2. Material
1 Kings 17:10-16
Prayer Point: Father, I demand before the new year, I must have a major financial breakthrough.
3) Marital
Genesis 29:16-30
Father, You performed your first miracle at a wedding, I demand concerning every marital issue in my family, You must intervene tonight in the Name of Jesus.
4) Spiritual
Mark 5:2-19
Prayer Point: My Father, my God, I demand double portion of Your anointing, power to heal, power to raise the dead, power to set the captives free.
Prayer Point: The heavens are open. Ask for anything.
Prophecy's for RCCG Congress 2020
Daddy says there's someone here tonight listening to us and He wants me to tell you, your own Red Sea will part before the end of the year. -Pastor Adeboye
The Lord asked me to tell somebody, you will laugh again. -Pastor Adeboye
Daddy says there's someone here today, you have been saying the Lord will make a way, He ask me to tell you, Yes He will make a way for you!
Daddy says there's someone here today, early in the coming year, three major breakthroughs that you do not deserve is coming your way.
Pastor E.A Adeboye Message & Prophecy For RCCG Congress 2020 Holy Ghost Service is brought to you for edification and actualization of the word of God
#ItIsTimeToFly #RCCGHGC2020