RCCG SPECIAL DIVINE ENCOUNTER 2020 DAY 3 Sermon/Message by Pastor E.A Adeboye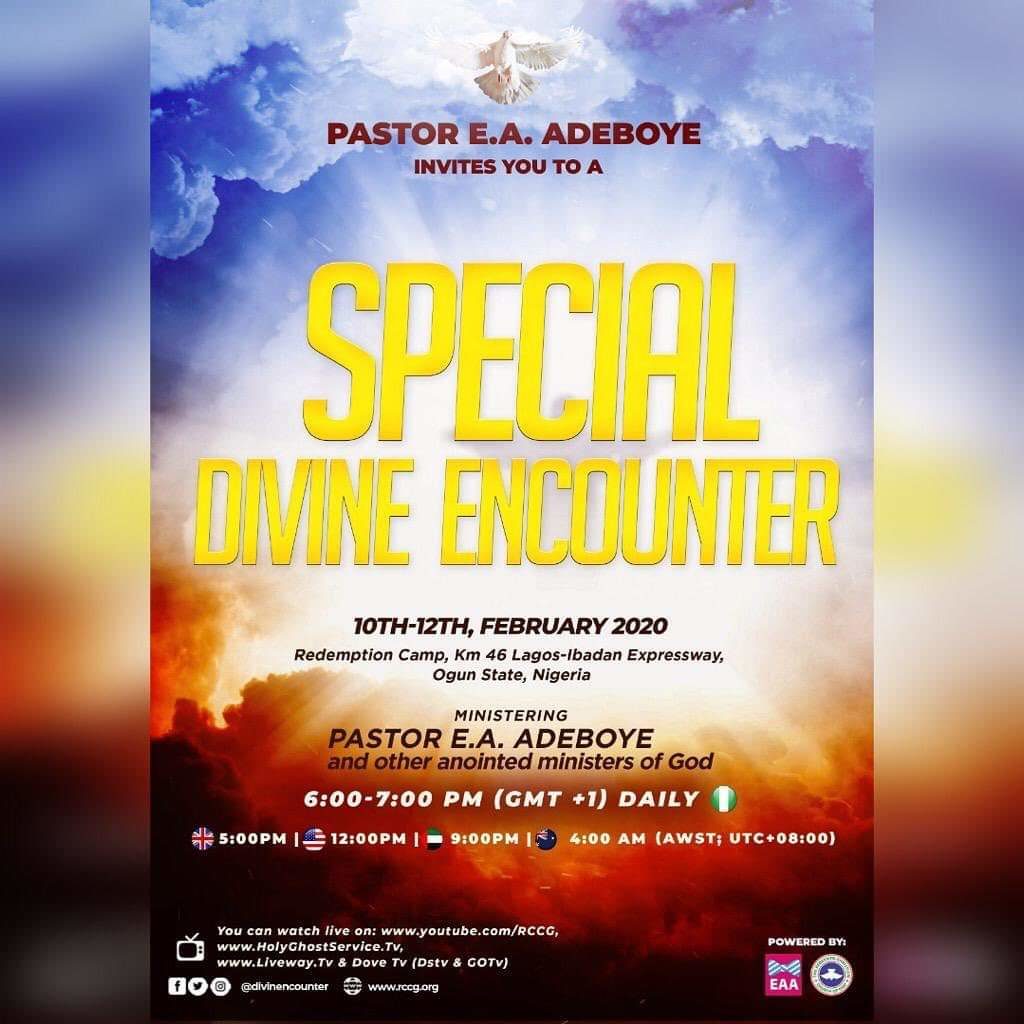 Day 3 of the Special @divinencounter
Text: Genesis 27:22-29
God is the Ultimate Father.
He prefers the title of Father even to God. Matthew 6:9, Ephesians 4:6. The first encounter Man had with God was a blessing. He blessed Man. Genesis 1:26. God is powerful but he also likes to delegate. He always wants man to participate in what He's doing. Genesis 2:19, Exodus 14:15-28. When God wanted to do something that has never been done before by bringing dead dry Bones to live again. He delegated it. Ezekiel 37:1-10.
When it comes to Blessing, He delegates the job to Fathers.
He is the Father of fathers and He gives Fathers the job of Blessing their children. Numbers 23:19-20, Genesis 27:33.
The Father's Blessings:
1. It will give you blessings that are not even your own. Genesis 27:22-23, Genesis 48:22-30. It will give you a miracle that you'll never forget. It will also be a diverted miracle.
2. It can propel you to tremendous greatness. That even leftovers will make others so great. Genesis 27:38-40, Genesis 32:3-6.
3. It will make you have unusual help. It will attract Help for you. Genesis 27:29, Psalm 20:1-2.
4. It can alter your level significantly. Deuteronomy 33:17, Genesis 27:29,37. It is possible for someone who is blessed to be Lord even in his family.
5. It can make an ordinary man to be a Nation. Genesis 32:24-38, Numbers 23:19-23.
When Issac wanted to bless Esau, he asked Him to bring something he loves. Genesis 27:14. Nothing that is very good comes cheap. People that know the value of things are ready to pay for it. Those who know the value of the Father's Blessings are ready to pay for it. Genesis 27:5-27.
Today, you are going to ask God to guide you to do something for your fathers (either Biological or Spiritual) that will provoke the Father's Blessings.
First step in getting the Father's Blessing is for you to surrender your life to Jesus.
He has to save your soul for you to be associated with Him. Come to Him now.
Prayer:
Father, it is my turn tonight! It is my turn to be blessed. It is my turn for the Father's Blessing.
#SpecialDivineEncounter
Watch PASTOR E.A ADEBOYE SERMON | RCCG SPECIAL DIVINE ENCOUNTER 2020 DAY 3