RCCG December 2023 Congress: Theme "Divine Repositioning" Date " December 4th - 9th 2023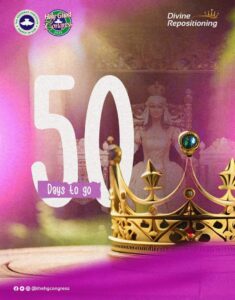 RCCG 2023 Congress is Here!! HALLELUJAH!! The Redeemed Christian Church of God (RCCG) 2023 Congress is an eagerly anticipated spiritual gathering that draws millions of believers from around the world.
And we are excited to unveil the details of the 2023 RCCG Congress, with the theme of "Divine Repositioning".
The RCCG 2023 Congress kicks off from December 4th to 9th, 2023, at the iconic Redemption Camp on the Lagos Ibadan Expressway, promises to be a life-transforming experience under the anointed leadership of Pastor E. A. Adeboye, alongside other esteemed men of God.
The RCCG 2023 HolyGhost Congress will take place at the renowned Redemption Camp, located on the Lagos Ibadan Expressway. This vast and spiritually charged venue provides the perfect setting for an immersive and life-changing experience.
Ministering is Pastor E. A. Adeboye (The General Overseer of the Redeemed Christian Church Of God) along other anointed men of God. These anointed ministers, known for their deep spiritual insights and teachings, will deliver powerful messages, anointed worship sessions, and life-changing prayers.
RCCG 2023 CONGRESS
The RCCG December Congress Theme has always been carefully chosen each year as inspired by the Holy Spirit to address relevant spiritual issues.
The theme for this year RCCG 2023 Annual HolyGhost Congress is "Divine Repositioning"  and is both timely and profound. It speaks about strategic repositioning that God orchestrates in the lives of His children. The theme suggests that attendees will be guided to understand how God can redirect, refocus, and reposition them for greater purpose, impact, and spiritual growth.
RCCG December 2023 CONGRESS Date and Time:
Make sure to mark your calendars for December 4th to 9th, 2023, as these dates will be a pivotal time for believers seeking a fresh encounter with God. The RCCG 2023 HolyGhost Congress will be held at the sprawling and spiritually-charged Redemption Camp located on the Lagos Ibadan Expressway. all roads lead to the Redemption City (Formally redemption camp), Lagos, Nigeria
See Also:
Why Should I Attend the 2023 RCCG Congress?
Spiritual Refreshment: The December Congress of RCCG offers a unique opportunity to experience spiritual refreshment, as renowned pastors, ministers, and speakers from around the world gather to share powerful messages and insights.
Through engaging sermons, impactful worship sessions, and an atmosphere charged with the presence of God, attendees can expect to encounter a life-changing spiritual experience.
RCCG CONGRESS 2023 A TIME FOR DIVINE REPOSITIONING:
The Congress serves as a platform for believers to connect, build relationships, and network with like-minded individuals from diverse backgrounds. Engaging in fellowship and sharing experiences with fellow Christians can provide encouragement, support, and inspiration on the journey of faith.
Empowerment and Equipping: The RCCG 2023 Congress is not only about spiritual nourishment but also about equipping attendees with practical tools for success in various areas of life. Through workshops, seminars, and specialized sessions, participants can gain valuable insights on subjects such as personal development, relationships, leadership, and financial stewardship.
Family-Centric Focus: The RCCG December Congress 2023 recognizes the importance of family and places a strong emphasis on strengthening family bonds. The event offers dedicated programs and sessions tailored to different age groups, ensuring that children, teenagers, and adults all have opportunities for growth and engagement.
Global Impact: With a global reach spanning over 190 countries, the RCCG DECEMBER 2023 Congress brings together individuals from diverse cultures, races, and backgrounds. This multicultural gathering provides a unique platform to celebrate unity, diversity, and the power of collective worship.
The RCCG December 2023 Congress With the theme "Divine Repositioning" holds great promise for spiritual growth, empowerment, and unforgettable experiences. You can prepare ahead even as we approach the set date "4th Of December - 9th".
Make sure you don't miss RCCG Congress 2023, and ensure to mark your calendar and prepare to be part of this powerful spiritual event.
Whether you are seeking spiritual renewal, personal growth, or simply a deeper connection with God, the RCCG 2023 December Congress is a must attend.. See you there!
Dont Forget to Share this post..Thanks!