Living Faith Church Worldwide AKA Winners Chapel Shiloh 2020 | Theme: Turn Around Encounters |Date Dec. 8th – Dec 13th 2020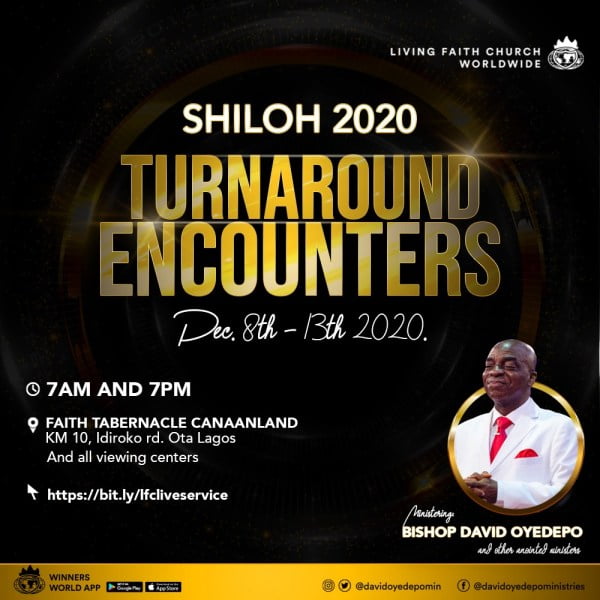 Theme: Turn Around Encounters
Date: Dec. 8th – Dec 13th 2020
Time: 7am & 7pm
Venue: Living Faith Church, Headquarters, Faith Tabernacle, Canaanland, Ota, Nigeria
Shiloh 2020 As Declared By Bishop David Oyedepo:
As believers, we are not permitted to stranded like others who do not know God, but we have been redeemed as a peculiar people on the earth as it is written, "the path of the just is like a shining light that shinneth more and more unto the perfect day."
Therefore, the theme of SHILOH 2020 IS TURNAROUND ENCOUNTERS! IT IS ANCHORED ON PSALM 126:1–6.
Shiloh 2020 shall be a mountain of diverse encounters resulting in supernatural turnaround in all areas of life for every participant.
Ever Winner must endeavor to be at Shiloh 2020 either on ground here at Canaanland or across any of our viewing centers around the world.
Note that all our Churches across the nations, cities, towns and villages shall serve as viewing centers during Shiloh 2020.