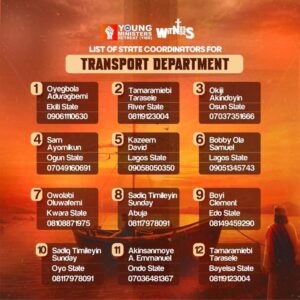 Perhaps you are concerned about YMR 2022 Transportation arrangement, and wondering how best to get to the Redemption City.
If yes, then relax this post covers ymr 2022 Transportation arrangement and verified approved point for convergence.
Of course that's not to say you can't transport yourself down, but it is our custom to make proper and safer arrangements to convey you down to the Redemption City for this event, even as we trust God for Divine Safety.
See YMR Registration link or Read More About 2022 Young Ministers Retreat 
YMR 2022 TRANSPORTATION.
*Below is the list of State Coordinators and their group WhatsApp links.*
1) Oyegbola Aduragbemi
EKITI State
09061110630
https://chat.whatsapp.com/FOcMxUmtCP3FCdUdztL3ru
2) Tamaramiebi Tarasele
08119123004
RIVERS State
https://chat.whatsapp.com/LtOfFUjnf7K9nUKRxgx447
3) Okiji Akindoyin
07037351666
OSUN State
https://chat.whatsapp.com/D75eab9A165ARiI7ebo1VV
4)Sam Ayomikun
07049160691
Ogun State
https://chat.whatsapp.com/EEcbVq145vkFpKOdFkFzbj
5)Kazeem David
09058050350
Lagos State
Bobby Ola Samuel
09051345743
Lagos State
https://chat.whatsapp.com/HIPzSWVPi6sHveinckTc7A
6) OWOLABI OLUWAFEMI
08108871975
KWARA STATE
https://chat.whatsapp.com/JXvT1J6qf8r6ipGYK2ZqsT
7) Sadiq Timileyin Sunday
08117978091
ABUJA
https://chat.whatsapp.com/LYmgbwfqGLMLBtXyh44LAg
8)BOYi Clement
08149459290
EDO state
https://chat.whatsapp.com/JXgS19fDlvqL1vA1htDl53
9)Sadiq Timileyin Sunday
08117978091
OYO State
https://chat.whatsapp.com/Kn6grLQ7om51e6zAZbdrwB
10)AKINSANMOYE AKINYEMI EMMANUEL
07036481367
ONDO STATE
https://chat.whatsapp.com/EmfJYIhlgKU0uwiY8nq0rs
https://chat.whatsapp.com/FOcMxUmtCP3FCdUdztL3ru
11. Tamaramiebi Tarasele
08119123004
BAYELSA
https://chat.whatsapp.com/H1xhqg80nMzG23lqRBaTDn
Source: P. Daniel Olawande