YMR 2022 Theme & Date Dec 27th - 30th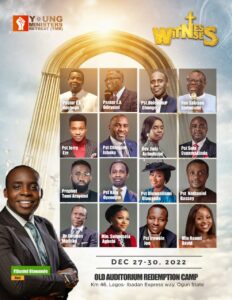 And the theme for YMR 2022 is Witness! Well, Incase you are wondering what IS YMR? it's an acronym for Young Ministers Retreat.
And its an annual gathering of young people with a mandate to raise BURNING GIANTS.
It is a convocation of young men and women seeking the face of the Lord via the word and in prayers and fasting for 72 hours.
See Also: YMR 2023 (Young Minister Retreat) Theme "The Rain" See Date
At this year Young Ministers Retreat "YMR 22" hopes are high, even as we expect a minimum of 200,000 participants.
Trust me, you don't want to miss it, recalled that last year we had in attendance over 50,000 young ministers gathered at the Old Arena Redemption Camp.
See YMR Registration Link Or Read more about the YMR 2022 Transportation Arrangement
Date, Ministers & Venue
No doubt, 2022 Young Minister Retreat will leave a lasting impression in the heart of many young people across the globe.
Ministering in words and prophecies this year includes our esteem father in The Lord, The General Overseer of RCCG Pastor E. A Adeboye along side
Pastor Daniel Olawande (YMR Convener), Pastor Jerry Eze, Pastor Irewole Joe and other anointed men of God.
Guest speakers for this year special session include the former Governor of Ondo state, Dr Olusegun Mimiko, Dr Akin Akinpelu.
Dr Stephen Akintayo, Tomi Adisa Pastor Kunle Adeniregun & Ayo Jolayemi among several others.
In his remark, the Convener Pastor Daniel Olawande folly called P. Daniel as this to say while sharing his thoughts on the highly anticipated youth gathering via his social media handle
"YMR 2022 is definitely going to be the best thing that ever happened to you in a long time.
The Lord is very intentional about us at YMR this year
God is raising witnesses in every sphere of human endeavour hence we will be having THE YMR SPECIAL SESSIONS every day during YMR 2022
As you come Prepare to attend at least 2 of these special sessions 3pm-5pm daily.
It's FIRE+SENSE= FIRESENSE"
Again, the date for this year Young ministers Retreat 2022 is December 27th-30th, and will be going down LIVE @ RCCG Old Auditorium Redemption City formally know as Redemption Camp.
#Witnesses
#YMR 2022
Dont Forget to Share this post..Thanks!