DAY 1 Prayer Points For RCCG 2022 FAST– Tue, Jan 11th, 2022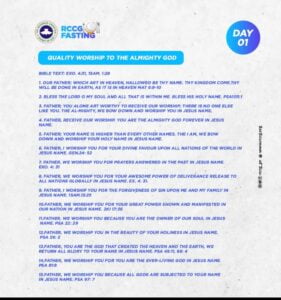 QUALITY WORSHIP TO THE ALMIGHTY GOD BIBLE TEXT: Exo. 4:31, 1Sam. 1:28
Worship is an act of reverence to the Almighty God. To achieve more than expected this year we need to make worship a life style.
Let us give God excellent reverence as His worthy of all thanks.
PRAYER GUIDE
1. Our Father; which art in heaven, hallowed be thy name. Thy kingdom come. Thy will be done in earth, as it is in heaven Mat 6:9-10
2. Bless the Lord O my soul and all that is within me. Bless His Holy name. Psa 103:1
3. Father; you alone art worthy to receive our worship; there is no one else like You. The AL-MIGHTY, We Bow down and worship You in Jesus name.
4. Father, receive our worship. You are the Almighty God forever in Jesus name.
5. Father; your name is Higher than every other names. The I AM, We Bow down and worship Your Holy name in Jesus name.
6. Father, I worship you for your divine favour upon all nations of the world in Jesus name. Gen.24: 52
7. Father, we worship you for prayers answered in the past in Jesus name. Exo. 4: 31
8. Father, we worship you for your awesome power of deliverance release to all nations globally in Jesus name. Ex. 4: 31.
9. Father, I worship you for the forgiveness of sin upon me and my family in Jesus name. 1Sam.15:25
10.Father, we worship you for your great power shown and manifested in our nation in Jesus name. 2Ki 17:36
11.Father, we worship you because you are the owner of our soul in Jesus name. Psa 22: 29
12.Father, we worship you in the beauty of your holiness in Jesus name. Psa 29: 2
13.Father, you are the God that created the heaven and the Earth, we return all glory to your name in Jesus name. Psa 45:11, 66: 4
14.Father, we worship you for you are the ever-living God in Jesus name. Psa 81:9
15.Father, we worship you because all gods are subjected to your name in Jesus name. Psa 97: 7
See Also: Download RCCG 2022 50Days Fasting & Prayer Guide PDF
#rccgfast #fast