Download "Overcome" DEBUT SONG By Pastor Emmanuel Iren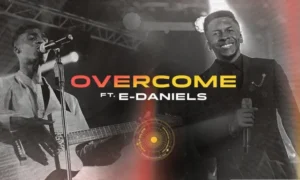 Gospel minter and Pastor Emmanuel Iren drops a New Single title "Overcome" featuring E-Daniels.
This powerful song is a must have for believers and Will Uplift Your Spirit.
Overcome Surely deserves A Place On Your Playlist and is definitely going to bless you. Remain blessed as you listen, Don't forget to share.
Download and listen as you remain bless.
Watch Video (Mp4) Below:
Overcome Lyrics By Pastor Emmanuel Iren
[Verse 1]
Those who know their God
Will be Stronger
Mount on Eagle's Wings
They'll go Higher
No Matter what they Face
They won't be Tired
Cause they've got
The Fourth Man in the Fire
Those who know their God
Will be Stronger
Mount on Eagle's Wings
They'll go Higher
No Matter what they Face
They won't be Tired
Cause they've got
The Fourth Man in the Fire
See Also: Moses Bliss – Daddy Wey Dey Pamper ft. Lyrical HI
[Chorus]
I have Overcome the World
I know, I know
I have Overcome the World
I know, I know
[Repeat Verse]
Those who know their God
Will be (Stronger)
Mount on Eagle's Wings
They'll go (Higher)
No Matter what they Face
They won't be (Tired)
Cause they've got
The Fourth Man in the (Fire)
Those who know their God
Will be (Stronger)
Mount on Eagle's Wings
They'll go (Higher)
No Matter what they Face
They won't be (Tired)
Cause they've got
The Fourth Man in the (Fire)
[Chorus]
I have Overcome the World
I know, I know
I have Overcome the World
I know, I know
I have Overcome the World
I know, I know
I have Overcome the World
I know, I know